Expandable for Changing Business Needs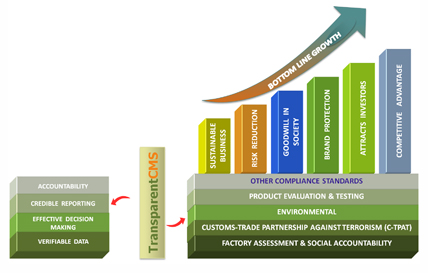 Your ability to quickly respond to changing business needs can be the key to gaining and keeping your competitive edge. But rigid IT systems that cannot grow and change with your business needs will increase the cost of ownership and amplify the business impact of non-compliance.

We recognized that it was critical that TransparentCMS would need to be:
Easily usable and affordable
Highly flexible and quickly implementable
Easily configurable and expandable to meet current and future needs
Support Self-contained collaboration
We, therefore, built TransparentCMS with a unique framework that is easily configurable to support multiple compliance programs. You can use the powerful system administration tools in TransparentCMS to easily setup and configure a new compliance program, or modify an existing one.
Setup and configure rules for new compliance program including workflow.
Assign access privileges by roles, user groups and locations.
Define multi-tier security at screen level, object level and data level.
Grant secure web-based access to each program partner.
Create custom screens, agreement and other content pages.
Configure workflow alerts and notifications for new compliance program.
Create and publish custom compliance agreements to secure electronic signatures against your Codes of Conduct.
Create self-assessment and audit forms including assigning risk factors to individual compliance items.